With the most spectacular sunset in the world, Santorini is the perfect destination for an exquisite wedding. The breathtaking scenery and the romantic atmosphere make it a unique destination. Picture yourselves getting married in Santorini as the sun sets over the caldera and the clear blue waters slowly acquire a purple shade. Doesn't this sound idyllic?
Aegean Special Weddings, is a distinguished wedding planner in Santorini that provides a full range of services in designing, planning, and managing a client's wedding. They also arrange pre-wedding and after-wedding activities upon request.
Planning your wedding is always exciting and full of endless choices. Aegean Special Weddings can make life easy for you. After all, planning a wedding is what they specialize in. Send an email with your personal details, special requests, and so on and they'll get back to you with their wedding proposal.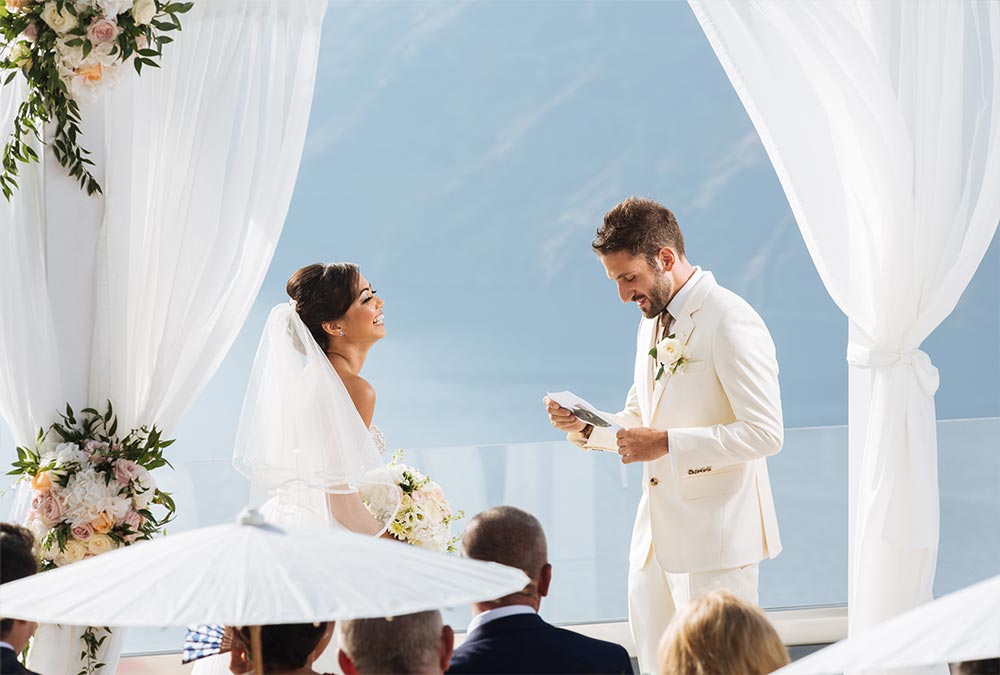 Packages
Their wedding packages are carefully thought-out and you can have the best wedding service at reasonable prices. They take care of all the paperwork, book the wedding location, date, and time, and arrange for the wedding registrar and two witnesses.
In Aegean Special Weddings you can choose packages for Symbolic wedding ceremonies, Civil wedding ceremonies, Greek Orthodox wedding ceremonies (The wedding packages for Greek Orthodox weddings are for inside ceremonies as the local priests of Santorini do not perform ceremonies outside of the churches) or Renewal of Vows.
Personal Choice Wedding
The romantic island of Santorini can provide a secluded paradise for your cherished wedding ceremony. Whether you envision a full wedding banquet or an intimate wedding day, Aegean Special Weddings will provide an unforgettable experience. They plan your wedding and tailor-made it to your preferences and needs.
Would you like to enhance your wedding? For Personal Choice Weddings, email them at info@aegeanspecialweddings.com
Venue & Reception
Your wedding reception could be organized at a hotel of your choice or at any one of their Wedding Venue locations. Leave everything in their experienced hands and prepare yourselves for the most romantic day of your life!
Wedding Enhancements
– Wedding Reception
– Fireworks
– Greek Dancers
– Live Band / Disc Jockey
.. and more
Website: https://aegeanspecialweddings.com/